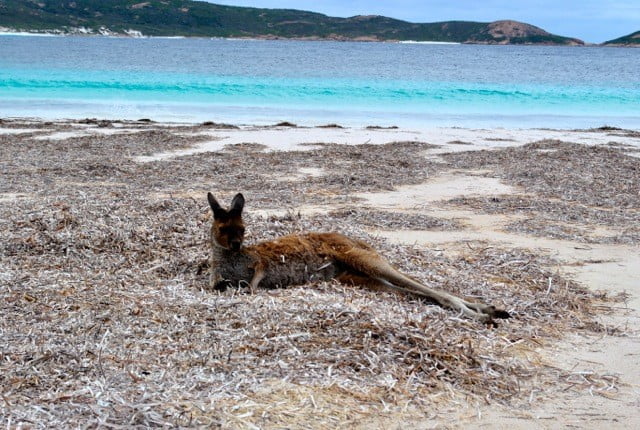 Woman In…. Esperance, West Australia
Our Road Trip
Esperance is a seaside town on the south-eastern coast of West Australia. To get there, my daughter and I set off on a road trip from Perth, and in one day, drove 730 kilometres  through the lower belly of West Australia.
On our journey on National Route 1 and on smaller local roads, we passed through a great inland sea of wheat, salt lakes and remote towns.
My daughter has lived in Fremantle in Western Australia for the past three years and will be returning to Victoria later this year, so before leaving the west she was keen to see more of the state. I work from home as an editor and at the time I had no looming deadlines so I was free to join her.  So we decided to visit Esperance and Cape Le Grand National Park.
In spite of the air conditioning being on its last gasp, 'Olivia', my daughter's trusty old  all-wheel drive Subaru was in good mechanical condition, a must for travelling the roads of West Australia. We had extra water and snacks as a precaution. Even though we weren't going to be travelling in extremely remote areas and the roads were all sealed, it's always wise when driving in rural West Australia, to take extra water and food in case of emergencies.
Picnic at Yilliminning Rock
Our first stop was Narrogin where we bought lunch and decided to stop along the way to have a picnic. About 20 minutes from Narrrogin we pulled onto Birdwhistle Road to follow a sign to Yilliminning Rock, where sure enough there was a concrete picnic table and an information board. Keeping an eye out for snakes and our feet up on the bench-seat away from large hungry ants, we ate our lunch in a cocoon of heat and bush silence;  I took my first long, relaxed breath since leaving my home in Melbourne five or six hours earlier.
Yilliminning Rock is a granite rock rising about 50 metres from the surrounding farmland. The 10-minute climb afforded a lovely 360 degree view of the plains through which we had travelled and were yet to venture. Tiny pins of heat stung the skin on our backs, somehow finding their way through the threads of our clothing. It was time to get back in the car, with a change of driver.
Through the Wheatbelt and a Milkshake at Lake Grace
For most of the 730 kilometres we were shoulder to shoulder with straw coloured walls of wheat, the West Australian wheatbelt. While some might find the kilometres of wheatfields tedious, I didn't. I was fascinated by the very largeness, the weight of blue sky, and the silence, and I entertained myself imagining what life on the land would be like. I enjoyed the memories from childhood of similar journeys my father took us on into the Australian bush. We stopped for a close-up look at the wheat, and the dry, red aridness dispelled any romanticism. A kind local woman stopped to make sure we were OK, as we were pulled over on a dusty road in the middle of nowhere.
We drove on stopping for petrol and coffee and a milkshake at Lake Grace. We visited the gallery next door to the café and discovered that the town had a vibrant arts and crafts community. The locals had been busy knitting and a gush of red knitted poppies filled the median strip dividing the highway running through the town.
About nine hours after leaving Perth we arrived in Esperance, and found our accommodation, a barn-like holiday flat called Doo Drop Inn. Quaint, but it had everything we needed.
Esperance and the Whale
Esperance is a small seaside town with comfortable accommodation choices. You probably won't find five star rooms, and certainly not five star restaurants but you will find hospitality and somewhere to fill your tummy at the end of the day.
We discovered three highlights of Esperance (there would be more but we only had a short stay). The first was the development of the waterfront, including a path winding through low indigenous planting. Even in its incomplete stage the path was interesting and relaxing to walk. It was the local jogging and exercise route.
The second highlight was a beautiful sculpture of the tail of a breaching Southern Right whale, at the centre of this redevelopment and at the entrance to the Tanker Jetty. The piece stood meters high and was made from steel and wood, inlaid with coloured glass. We later met one of the artists, Cindy Poole, at her studio, Section Glass Gallery, (a must visit) who told us the story of the sculpture. The brief was to incorporate the elements of the local area and she and another artist decided on a whale to represent beauty and the migrating whales that pass the town, steel and wood for industry and the port as well as fishing vessels, and glass to reflect the colour of the area. The sculpture is one of the most beautiful pieces of public art I have ever seen.
The third highlight was a coastal route that takes you past some stunning ocean scenery and swimming beaches. We stopped for a swim in the aqua waters of a Twilight Bay, just out of town. On our return we stopped on a cliff top to watch a storm approach over the ocean. We longed for the cool and wet of the storm, and hoped it would reach the dry fields inland.
The next day we would leave for Cape Le Grand National Park.
Cape Le Grand National Park and Frenchman's Peak
At 50 kilometres south-east of Esperance, Cape Le Grand National Park is an ideal day trip, or if you have camping gear or a camper van you can stay as long as you like. At Lucky Bay camping ground, where we stayed for one night, there was an outdoor kitchen, BBQs, clean amenities (toilets and showers) and ample sheltered space for tents, with a separate space for camper vans. There is no power and you will need to bring your own drinking water. There is a small charge per night.
On our way into the park we stopped to climb Frenchman's Peak (262 metres). I resorted to crawling on hands and feet for a short section early on, however the rest of the climb, while needing endurance, wasn't difficult. The rock faces could get slippery so I wouldn't advise this climb during or just after rain. Having said that, it rained lightly while we were at the top so we took extra care on our descent.  The 360-degree view from the summit is beautiful. On one side we watched the rain approach. From the height we could see the perimeter of the rain cloud, and it moved like a swarm across the land, over us, then out to sea. Looking in the opposite direction, the colours and formations of sea and sky mirrored each other and we could not tell where one started and the other stopped.
After setting up camp we used the clean outdoor kitchen to cook dinner. More campers arrived during the evening, many of them young people and families from overseas. There is a ranger's cottage nearby the camping area, and even without this we felt safe and comfortable. Lucky Bay is famous for kangaroos that come down to the beach, and it was very strange seeing kangaroos lying around on the sand. We saw a group of people who had been four wheel driving along the beach to get to remote fishing spots, but most people were there to bushwalk. There is a main 15-kilometre walk (one way) that can be done in a day, or broken into smaller walks, which are around three hours one way. We kept our activity to beachcombing as we only had one night available.
Before heading the 800 kilometres back to Perth, I woke early for a walk and to watch the sun rise over this natural, unspoilt corner of Australia.
*  *  *  *  *  *
Photographs – Jacinta Agostinelli
Jacinta Agostinelli is a Melbourne-based writer and editor. She also works pro bono on the management committee of a local community organisation, cares for her granddaughter, and grows vegetables and raises chickens using organic and sustainable methods. She enjoys spending time with her family of five daughters and husband, especially in far away places.
---
If you liked our post, please consider becoming a supporter of
A social enterprise advocating for economic security and social inclusion of Australian women aged 50+.
We campaign against the discrimination and general invisibility women 50+ face.
We tell the stories of women 50+ who are re-defining how women age.
SUBSCRIBE to receive latest posts in your Inbox.
SUPPORT our advocacy and keep us accessible to all women.
---
Please follow and like us:
https://womangoingplaces.com.au/wp-content/uploads/2015/02/Kangaroo-on-the-beach-at-Lucky-Bay.jpeg
430
640
Jacinta Agostinelli
https://womangoingplaces.com.au/wp-content/uploads/2021/06/wgp-logo_new_v251.png
Jacinta Agostinelli
2015-02-23 13:44:53
2018-07-22 11:00:10
Woman In…. Esperance, West Australia