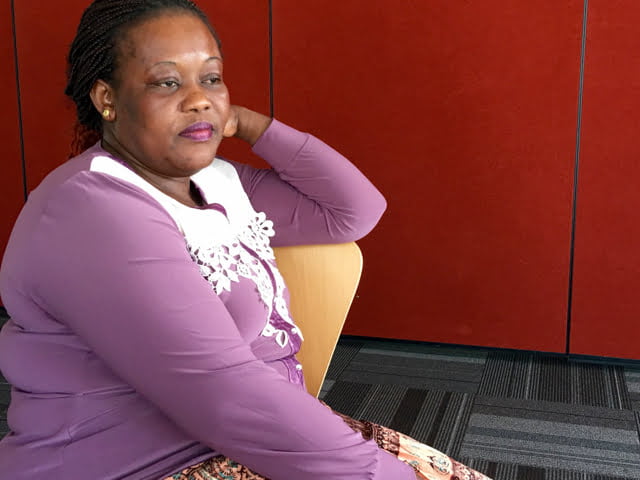 My name is Ajok. I come from South Sudan (in 2005). Before I came from South Sudan, it was all Sudan, not separate. But we are separate now, we are South Sudan now. And when I came to Australia, I go to Khartoum first then to Egypt. And we do the process with my husband and my kids. I born two kids in Egypt, and we came to Australia.
How long did you have to spend in Egypt?
Three years. We do process three years in Egypt.
Was it dangerous leaving Sudan and can you describe the journey from Sudan to Egypt?
When we come from Sudan to Egypt we have war in Sudan. That's why we come to Egypt, with my husband. Egypt is very good.
What was the hardest thing for you when you arrived ?
When we arrived here ( in Australia),  I don't know the language very well. We have Dinka and we have Arabic in Sudan before. But when we come here, we don't know English. I'm listening, but I didn't talk. When I came here, I didn't go to school. My husband went to school first and I stay with kids. It's hard. When my husband go to school I will stay with my kids and when we don't have something in my house, we wait until my husband coming back home.
You couldn't go out and do the shopping?
Ah no. I have small kids, two or three, no-one with me. I'm waiting for my husband coming. My husband learn to drive and this is helping. We do everything together. And now we are happy. My husband finished school in 2010. When we coming from Sudan, he had three years in uni. And now he finished here – medical doctor. And now my children – the older one now is going to the uni, designer, and we are happy. And the second one now in year 11 and we are happy too. And the last one in year 1. I have six boys and one girl. And my husband and me we are happy in Australia.
Not all kids, but some kids, they don't listen to us. They say these rules in Australia is good. But when they go out, they don't do good things. Your Mum not there, your Dad not there, no older ones to say to you "Don't do this, Don't do this. " That's why they do crime, crime in the streets, crime everywhere. And then every white people they see black people and think they don't do good things. But not all. This is not our culture. This is the rule for Australia culture.
How does it make you feel?
We feel no good. For us, when you see on the TV they say black people do this, they do this, you not feeling good. You feeling like tell your kid and your family to go back in your country. But not safe in our country. That's why we are here. We don't do anything.
When we come to Australia, the Australia rule say when your baby or child turning 18, they go out. But in our culture, no. You stay with your kid. Your boy – when they have married they stay in the house, not go outside. And girls too, when they are married they go with their husband (family). And here rule in Australia this is a bad rule in Australia, that when the kid is 18 and then they go out to take care of themselves.  This broke our hearts. And we sad for this one.
But now our kids not listen to us.
We want to talk with the Australian people. We are good people. We are not bad people. This is kids who take the rule here. This rule is not our rule.
This is my dream, I pray to God, all my kids to be good, not take the Australia rule and all this. They follow the school and they follow good things, not follow bad things. This is my dream.
*The Wyndham Women of South Sudan group was set up to provide English literacy skills and to build a community. The English class produced a 2017 calendar which features some traditional Sudanese recipes.
---
If you liked our post, please consider becoming a supporter of
A social enterprise advocating for economic security and social inclusion of Australian women aged 50+.
We campaign against the discrimination and general invisibility women 50+ face.
We tell the stories of women 50+ who are re-defining how women age.
SUBSCRIBE to receive latest posts in your Inbox.
SUPPORT our advocacy and keep us accessible to all women.
---
Please follow and like us:
https://womangoingplaces.com.au/wp-content/uploads/2017/04/Ajok.jpg
480
640
Rosalie Zycher
https://womangoingplaces.com.au/wp-content/uploads/2021/06/wgp-logo_new_v251.png
Rosalie Zycher
2017-04-16 12:05:36
2017-04-16 13:11:15
Ajok – Women of Oz