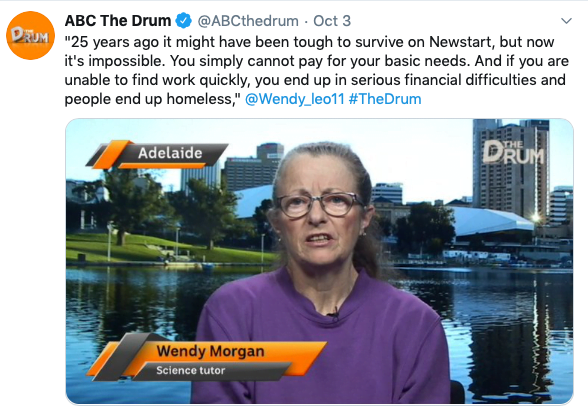 True Face of Newstart Recipients
Wendy Morgan, in her appearance on ABC's The Drum, showed the true face of Newstart recipients.
The majority are older women and they are on Newstart much longer than younger people, often for four years until they are old enough for the pension.
Wendy is not a drug addict. Nor is she a dole bludger.
She is a science tutor, has a double science degree in physics and chemistry, ran a printing lab and also has a forklift license.

Until seven years ago she could afford her rent even though it was being raised each year.
And then she lost both her job and her home because she could not afford it or any other apartment on Newstart.
She put her possessions in storage and began sleeping in her car.

With all her qualifications and experience she found it impossible to find a job, because of age discrimination.
"Once you hit 45, it becomes incredibly difficult to find work.There are few employers who will even give you an interview. If you turn up, they will find a way to dismiss you. It doesn't matter how much experience you have, it is simply not valued."

Her case worker told her to delete her qualifications from her CVs. The only work she was offered was as a cleaner but several employers would not give her work even as a cleaner because they would be obliged to pay her according to her qualifications.

This is the daily experience of tens of thousands of older women. Despite decades in the workforce they are now trapped on Newstart- unable to survive on a payment that has not been increased in the last 25 years. And on top of that stigmatised and smeared as drug addicts and social rejects.
It is unconscionable!
For the full interview with Wendy Morgan see https://iview.abc.net.au/show/drum
---
If you liked our post, please consider becoming a supporter of
A social enterprise advocating for economic security and social inclusion of Australian women aged 50+.
We campaign against the discrimination and general invisibility women 50+ face.
We tell the stories of women 50+ who are re-defining how women age.
SUBSCRIBE to receive latest posts in your Inbox.
SUPPORT our advocacy and keep us accessible to all women.
---
Please follow and like us:
https://womangoingplaces.com.au/wp-content/uploads/2019/10/Wendy-Morgan-on-ABC-The-Drum.png
411
588
Augustine Zycher
https://womangoingplaces.com.au/wp-content/uploads/2021/06/wgp-logo_new_v251.png
Augustine Zycher
2019-10-07 10:59:49
2019-10-07 11:01:55
True Face of Newstart Recipients