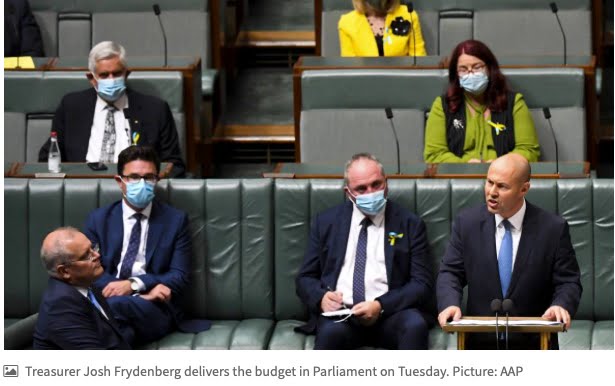 Lollies Instead of A Living
Treasurer Josh Frydenberg in Budget 2022 is handing out lollies when millions of Australians, despite being employed, are losing their ability to feed, clothe, house and support their families and themselves. Trumpeting about unprecedented unemployment figures is meaningless when wages have gone backwards, work has been casualised and employment is defined as working just a few hours per week. Over 60% of those dependent for food on OzHarvest are actually employed.
And let's not forget the unemployed on $46 per day Jobseeker. Most of them are women aged 50+, and there are almost half a million of them already homeless or at risk of homelessness. Social housing for them has been ignored in this budget, as it was in the last.
Since these women are either unemployed or on low incomes, the $420 tax offset will do nothing for them. And a one-time payment of $250 for people in desperate straits is an act of contempt. Particularly since inflation is expected to rise by 3% this year.
But there is $37.68 billion for fossil fuel subsidies in Budget 2022.
A Federal Government that rejects any obligation to govern as part of a social contract to improve the lives of its citizens is a government that has lost the moral justification for its existence.
It must be voted out.
---
If you liked our post, please consider becoming a supporter of
A social enterprise advocating for economic security and social inclusion of Australian women aged 50+.
We campaign against the discrimination and general invisibility women 50+ face.
We tell the stories of women 50+ who are re-defining how women age.
SUBSCRIBE to receive latest posts in your Inbox.
SUPPORT our advocacy and keep us accessible to all women.
---
Please follow and like us:
https://womangoingplaces.com.au/wp-content/uploads/2022/03/Treasurer-delivers-Budget22.jpg
386
615
Augustine Zycher
https://womangoingplaces.com.au/wp-content/uploads/2021/06/wgp-logo_new_v251.png
Augustine Zycher
2022-03-30 18:12:31
2022-03-30 18:12:31
Lollies Instead of A Living