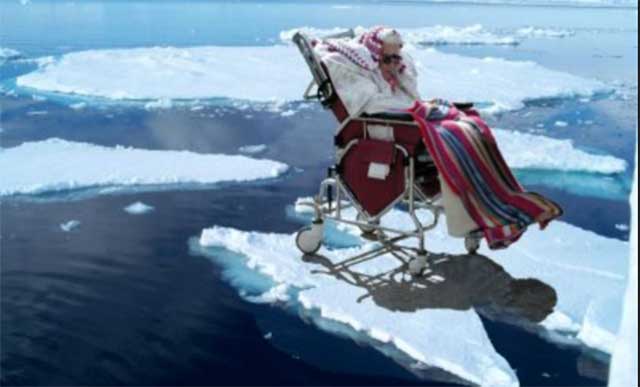 Abandoning Old People on Ice Floes
It's called Senicide – the custom of abandoning or killing the elderly once they reached the age of 60 or 70. Different cultures practiced it in different ways over time. In Japan, it is known as obasute and literally translates to mean 'abandoning an old woman', usually by carrying her up a desolate mountain and leaving her there. The Inuit abandoned elders on ice floes. If you are ageing in Australia and are financially vulnerable, while you may not be dumped on an ice floe, you are at risk of being abandoned.
Every week, more than 230 older Australians die while waiting for government-funded help to stay in their homes, according to new Government figures secretly release in January this year and disclosed by Annika Smethurst in the Daily Telegraph. Around 30,000 have died over the last two years.
This is just one element of the social dislocation that we are witnessing with our ageing population and particularly with women ageing in Australia. Never before have we had a growing underclass of women aged over 50 becoming impoverished and homeless. The 2016 Census showed that there were 1,060,515 women aged 65+ below the poverty line. Exponentially the numbers are much higher now. One in 3 single women aged 55+ live in poverty according to an Australian Human Rights Commission report in April 2019.
The Face of Poverty in Australia is the Face of an Older Woman
The face of poverty in Australia is now typically the face of an older woman. The World Economic Forum has declared that Australian women will outlive their savings by an estimated 12.6 years. This is the generation with little or no super, and with fewer assets and savings than men. These are the women who cannot afford to buy enough basic food, who crowd the emergency rooms suffering from hypothermia because they cannot afford heating, who sleep on couches, in cars and even cemeteries because they cannot afford rent or a mortgage, and who, in despair and in increasing numbers, are committing suicide.
The Australian Government fails to acknowledge the scale and severity of this unprecedented social, economic and health crisis. But confront it we must, because it has become an existential issue for Australia. 
For the first time in our history, Australia has a significant proportion of its population aged over 50. One in four Australians will be over the age of 60 by the year 2030 and people are living into their 90s.
Australian governments are not coping.
The OECD scored Australia as having one of the worst levels of pensioner poverty in the world. Thirty-five percent of our pensioners live in a state of income poverty compared with only 18% in Turkey! And the OECD recently recorded that Australians over 65 have the highest rate of rental poverty in the OECD.
No Strategy for Demographic Change
In the same way that we need a comprehensive climate policy to deal with climate change, so too do we need a comprehensive strategy to deal with demographic change. 
The introduction of superannuation by Paul Keating was the most significant policy targeted at an ageing Australia. But since then, no successive government has sought to develop a strategic plan and allocate resources to deal with this new reality.
Such a national plan would need to address two key questions:
How do we prevent the penury, homelessness and preventable deaths of literally millions of older Australians?
How do we address the economic insecurity of women elders in particular, since they constitute the majority of older Australians?Apart from the human cost in this crisis, consider what else is lost. This is the first generation in history of older women with a collective wealth of professional knowledge, with workplace experience and skills. How do we harness this extraordinary human resource?
But the Australian government is not engaged in strategic national planning on this issue. Instead its policy towards financially vulnerable older Australians can best be described as a policy of attrition. It withholds their means to live in security and erodes their spirits to age with dignity.
Policy of Attrition
It  is a policy of attrition that keeps older women, who constitute the majority of people on Newstart, on $40 a day – a rate not raised by Liberals or Labour for 25 years and impossible to live on. Up to 60% of people who receive Newstart experience rental stress, pay more than 30 per cent of their income in rent according to figures provided to Senate estimates by the Department of Social Services last year.
The odds of older Newstart recipients finding work are negligible given both the ageism in the workplace and the fact that the latest job vacancies show that there are only 243,400 jobs for 686,785 Newstart recipients. The statistics confirm that older women are condemned to spend up to 4 years trying to survive on Newstart.
The Government's plan to drug-test Newstart recipients adds further humiliation for these women.
A  25% increase in older Australians needing unemployment income support has turned those aged 55 to 64 into the largest cohort of people dependent on Newstart. But the Government is so determined to delay spending on older unemployed Australians that it is now increasing the wait time for Newstart. This legislation passed the lower house last year and will now be presented in the Senate.
Pensions & Aged Care
The policy of attrition applies also to pensions. Government spending on the age pension has actually fallen compared to twenty years ago, from 2.9 per cent of GDP to 2.7 per cent of GDP.
Nevertheless, reducing spending on vulnerable older Australians continues. Shortly after the Government announced $2 billion for bushfire recovery, the Government announced it would tighten up the costs of welfare and pensions to deliver a $2 billion savings to the budget. 
This follows on from the pressures exerted on welfare recipients by the illegal use of robodebt. Pensioners were amongst those subjected to immeasurable stress and driven to suicide.
It is a policy of attrition and gross neglect that is responsible for the state of the age care system in Australia, both in residential facilities and in home care. 
A scathing interim report from the Royal Commission in Aged Care Quality and Safety slammed the age care system as " diminishing Australia as a nation". It described it as a "sad and shocking" system which was "inhumane, abusive and unjustified".
As a study of 800 nursing homes showed the average spend on food is $6 a day. But both the Coalition and Labour last December voted down crucial amendments for transparency, accountability and staffing ratios that would have forced nursing homes to reveal how they spent their $20 billion of taxpayer funds each year. 
Australia's elderly are being abandoned to die not only in residential facilities but also in their own homes. The Productivity Commission recently revealed that 112,000 people have been approved to receive packages, but waiting times to actually receive them have now ballooned out to 3 years. Over 11,000 people will continue to die each year while waiting.
Age-based Prejudice & Ice Floes
The Government is not feeling much public pressure to change its policy. This is due in part because as women age they become invisible, so they and the issues that affect them are not on the public agenda. In addition, the prevalence of elder poverty is being obscured by a grotesque generational conflict.
OK Boomer and rich-retiree/franking-credit stereotypes of greedy, home-owning older people are pilloried almost daily on social media. In fact, home ownership rates for retirees have fallen. And the reality is that even women who own their own homes are in increasingly precarious positions as they still struggle to pay off their mortgages. Mortgage debt for people aged 55-64 was 13% in 1995-96.  By 2018 it was up to 40%.
"Age-based prejudice is the last acceptable form prejudice,"  says New York University's Michael North, who studies ageism in the workplace. " People are making age-based generalisations and stereotypes that you wouldn't be able to get away with about race or background."
Biding time as more older people 'fall off the perch'  is a convenient strategy for governments that regard older, vulnerable Australians as a burden. It's a workable alternative when you don't have any ice floes off your coast.
---
If you liked our post, please consider becoming a supporter of
A social enterprise advocating for economic security and social inclusion of Australian women aged 50+.
We campaign against the discrimination and general invisibility women 50+ face.
We tell the stories of women 50+ who are re-defining how women age.
SUBSCRIBE to receive latest posts in your Inbox.
SUPPORT our advocacy and keep us accessible to all women.
---
Please follow and like us:
https://womangoingplaces.com.au/wp-content/uploads/2020/02/OLD-WOMAN-ON-ICE-FLOES-ENLARGED.jpg
387
640
Augustine Zycher
https://womangoingplaces.com.au/wp-content/uploads/2021/06/wgp-logo_new_v251.png
Augustine Zycher
2020-02-18 18:24:50
2020-02-20 13:33:37
Abandoning Old People on Ice Floes